Abykus.com


Spreadsheet software for Windows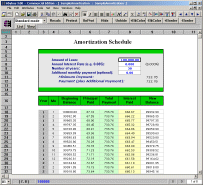 Abykus 3.0 is spreadsheet software that will run on virtually any Windows Operating System. The interface is simple and intuitive, making it easy to learn and a great choice for an individual, educator or small business owner looking for a single, inexpensive program that can handle a wide range of applications, such as:
Personal budgets
Retirement plans
General ledgers
Small databases
Construction estimates
Statistical analysis
Engineering designs
Abykus requires only 3 megabytes of disk space to install and will not create or access files outside the folder used to install it. Despite its compact size, the spreadsheet offers more than 190 built-in functions and can load up to 32 separate worksheets at one time.

For the more advanced user, Abykus has a number of unique crunching capabilities that rival the most expensive spreadsheets on the market. For example, you can store up to 8191 individual values in a single cell (called cell objects) that can represent anything from simple lookup tables to complex graphic objects.
Inexpensive and easy-to-use
Requires less than 3 Mbytes of disk space
No .dll's are loaded in your System folders
No hidden files are loaded on your computer
No entries are made in your Registry
Delete the program and it's uninstalled
(Learn more)